History of an expedition vehicle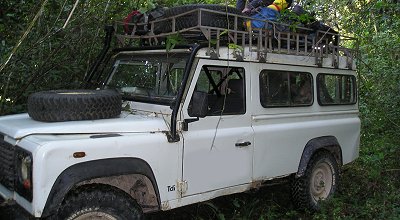 During my time in Belize, I kept a detailed log of all works and problems that occured whilst supporting the jungle expeditions. Below is the history of one of the vehicles over the first 6 years of its life. I'm sharing this because it was an expedition work horse, spending about half of its life off road, did 120,000km in 3 years and was well maintained.
The vehicle was a 2002 Defender 110 Hardtop 300Tdi ROW - 4 and a half years old by the time it came under my care - which had been owned from new and had a comprehensive service history. Being the newest vehicle in the fleet, it did a lot of miles, in a very short period.
Personally, I think it makes interesting reading of what can, and does, happen to an expedition Land Rover Defender, constantly working in arduous conditions. Most notably it had a history of overheating, which had caused a serious reduction in power, managing a maximum of 100km/h, chuffed a lot of black smoke and was off the road for 6 months in one particular year. The fun starts at 132,000km...
Enjoy!
Mileage (kms)
Event
Work Done
Notes/work pending
2,789
Repairs to front Bush Guard
7,844
30 Point Inspection
16,753
6 month service
Full service, valve clearance adjusted. Various other 'checked', all filters replaced.
24,769
6 month service
Repair radio, replace rear door handle, replace front shocks
27,092
Repair Clutch sticking
35,753
Shock support broken, bolt replaced. Rear brake pad replaced, rotor resurfaced.
38,256
6 month service
Air/oil filter, full inspection
39,934
Repair shocks support completed
57,576
Oil Change/filter, Top Link Bush, Windscreen washer jet, LHS sidelamp.
58,637
Front and Rear Brake Pads Changed
65,246
6 month service
Oil, Oil Filter, Air Filter, Fluids
68,900
2 yearly Service + Full Inspection
Lower link straightened. All oils (except engine) renewed. Swivel Pin Bearings - load adjusted. Brake lights. Hydraulic cistern flush. Grease points greased. Fuel Filter replaced. Coolant flush and change. Handbrake system stripped and adjusted. Top link ball joint. Top link bushes, Repair to front bush guard. Full wheel and hub strip down - all bearings re-packed with new grease, new seals.
71,680
6 month service
Oil Change + filter / Air filter / Fluids level check
83,888
3 month service
Oil, Oil Filter, Air Filter, Fluids. Replaced Left/Front Brake Pad (one side only).  Clutch Pedal freeplay adjusted. Left H/Lamp replaced (needed).  Tested Steering for lock – nothing found
86,300
Windscreen replaced (used glass with crack).
86,681
Tyres replaced x 4, Wheel alignment carried out -wheels lean slightly inwards not a problem for safe driving + truck maintenance.
91,005
6 month service
Oil, Oil Filter, Fluids, brake lights dashboard light repaired. NOTE: requires bolt at front RHS (body to chassis)
-
Oil Filter replaced and level topped up.  Front Brake pad check - both fine: observe squeak.
101,564
3 month service

All fluid levels checked,
Oil and Air Filter changed.
Fuel filter checked.
T Box topped up.
Horn fixed due to shorting connections.
Re attached washer jet: needs yet to be made good.
Catch on passenger door re-aligned.

Welding, painting of Bull Bar. Seats need welding/brackets. New Reverse light assembly needed. Rear Shocks: need new bushes. Sediment bowl needs 2 x new seals. Replace Timing belt. Reassemble VHF Base Station.
107,520
6 month service
Engine Oil and filter change. Oil levels checked, Tbox topped up with 1 litre. Underbody greased.  Changed timing belt for new. Sediment bowl seal changed. Rear shock absorbers changed L/H/R - used, R/H/R - new.
-
Turbo outlet hose replaced (old hose had split).  Valve clearances adjusted.
-
Vehicle temperature gauge behaving erratically.  Garage checked sensor and thermostat, both fine.  Suggested gauge may need replacing - keep an eye on it.  2 x valve clearances adjusted.
120,209
3 month service
Engine Oil and filter change. Oil levels checked, Tbox topped up, was low. Underbody greased.  Air filter replaced with new.  Sediment bowl cleaned. Clutch fluid topped up - was low due to leak from L/H/R. L/H/F AND R/H/R wheel bearings adjusted.  L/H/R break calliper piston changed.  Break disc serviced (min 13mm, now 12mm +/-).  Rear break pads replaced.  L/H/R Shock absorber exchanged.  Top link bush changed. R/H/F door handle secured.
Rear break discs will need replacing at next service. L/H/R bottom link front bush, serpentine fan belt, R/H/R new bearings.  Pair of rear disc breaks.  Set of valve clearances Possible clutch leak?
Temp gauge reading high
Temperature gauge once again up high but fluctuating erratically.  Fuel gauge also jumping between full and half full and when lights were on light behind fuel gauge fading in and out on dash.
Need to get electrics checked for any possible shorting.
122,166
Tyre change
All 4 tyres replaced with new Hankook tubeless mud-grip tyres.  All four wheels aligned and balanced.
Tyres need to be rotated in 6 months.
128, 670
6 Monthly Service and Inspection
Engine oil and filter changed.  Tbox topped up.  All levels checked and joints greased. Replaced for new:  Fan Belt.  Both rear wheel bearings, hub seals, drive flange, break discs and pads.  Rear shock abs x 2.  Lower link front bush, rear prop universal joint.  Radius arms exchanged containing new front and rear bushes.
N.B. No need to clean and re-grease rear wheel bearings during 2 yearly service. Need new bracket in order to attach new rear mud shield. Order new sensor and gauge to try and eradicate prob with temp gauge. New RHR half shaft required for next service.
132,250
Engine overheated on Western Highway
All coolant had leaked out of coolant reservoir due to a small hole in the heater maxim, causing the engine to overheat. Vehicle was towed back from Hatteville to Belize City. Overheating caused the engine block head to warp and this had to be skimmed by 16 thousandths of an inch to make it flat. Head gasket replaced with new, thicker gasket. Coolant hose disconnected from heater as we do not use it and diverted.
Engine weakened by overheating.  Garage suggested that the truck may now be more sluggish and we may need to consider re-building engine or exchanging for new in due course.
133,150
Problem with rear swing on acceleration and deceleration
Swing and loss of some steering control was being caused due to lower link front bushes being worn out (esp. LH bush). Both lower link front bushes replaced for new.
133,150
Underbody Wash
Vehicle under carriage washed using pressure hose
133,700
Vehicle loosing power and whole body shaking
Loss of power and vibration were caused due to a broken rocker arm.  Vehicle was tailored back from Belmopan as did not want to further damage the vehicle by driving it.  Rocker arm had sheared off on one side and therefore become detached from the piston.
135,245
Loss of power
Another rocker arm had broken.  Upon further investigation it became apparent that since the cylinder head had been skimmed due to warpage it was now too shallow and the pistons were hitting the underside causing the rocker arms to break.

New cylinder head required.

Whole cylinder head to be replaced with new.
135,245
New cylinder head fitted and 3 Monthly Service and Inspection

New cylinder head fitted, one push rod replaced and one rocker replaced.
Engine oil and filter changed.
Tbox topped up.
All levels checked and joints greased.
Air filter replaced with new.
RHR Half shaft replaced with new.
Heater core replaced and previous coolant leak from heater pipe now solved.

Minor leak from one of the fuel returns on the engine – replace whole set (3) Observe small oil leak from T-box – keep an eye on this and possibly replace seals / gasket at next service.
136,530
Vehicle weaving

Lower link front bushes worn out, esp on RHS. Replaced with new
RHS Radius arm bushes also replaced for new

Both lower link front bushes replaced and RH radius arm bushes replaced with new.
142,400
Underbody Wash

Vehicle under carriage washed using pressure hose

142,459
2 yearly service

Engine oil and filter changed, new air cleaner fitted, fuel filter checked.
Sediment bowl cleaned.
New valve cover gasket, valves checked.
New fuel return line fitted.
Front Axel stripped and diff bearings checked.
Swivel housing filled.
Oil drained and re-filled.
Wheel bearings checked - ok.
Clutch drive disc replaced (with use disc).
Gearbox drained and refilled
Front bearings shined (freeplay)
T-box replaced and filled (previous one leaking)
Rear differential drained and re-filled, differential bearings replaced.

Observations: Rear brake piping broke by master cylinder (mended with tubing but watch for loss of fluid). Pending work: Rear crank oil seal leaking L/H/S engine mount. Gearbox front seal. Clutch Master cylinder. Intake filter housing mounts x4.
Coolant leak
All coolant had leaked out of coolant reservoir, causing the engine to overheat.  The leak was due to a small hole in the heater maxim, despite this having been recently replaced.

Coolant hose disconnected from heater as we do not use it and diverted.

147, 840
Vehicle broke down due to overheating
Vehicle overheated and had to be towed back from close to Belize zoo to Belize City. Overheating had caused the engine block head to warp.

Blockhead was repaired in Spanish Lookout by having a thick metal plate welded to the bottom of it and then having 12 thousandths of an inch skimmed off to make it flat.
Radiator from NHT used in SW to replace damaged radiator from this vehicle and get it back on the road as quickly as possible.

147, 840
Cylinder head and radiator re-fitted

Damaged radiator was repaired by removing 2 sections of radiator core and soldering the ends to repair the holes left by the removal of the cores.
Radiator also flushed through.  Radiator is perfectly serviceable.
Cylinder head was refitted with new 'no notch' head gasket.
New 4 x Intake filter housing mount fitted
New clutch Master cylinder
New rear brake piping

NHT back on the road 25th Nov
N.B. Radiator in NHT is now the radiator previously fitted to the SW, a 2001 vehicle. Work still pending: Rear crank oil seal leaking L/H/S engine mount. Gearbox front seal.
147,500
Loss of Power
Overtaking on the western highway, the engine had no power suddenly and a disturbing knocking. Towed. Yet another Rocker arm had broken.

The middle screws on the rocker cover were re-threaded to hold it down, because of some past 'temporary' fix. This one is now permanent (!)

148,500
6 month service

Oil and fuel filters changed
Front diff, rear diff, sump and T-box oil changed
Bearings checked

150,700
Extra work as stock received

Rear shock bushes replaced with new

The old bushes were split by the previous mechanic to squeeze them in. As such the shocks were putting pressure on a split bit of rubber, which did hardly anything and was a very temporary bodge.
LHS Gearbox mount due next service (not the engine mount)
153,500
Front prop sheared off
The entire thing split off driving from GJ to Orange Walk. Remaining piece remove and driven in diff lock to garage where they replaced the front prop shaft with a used one. (new costs $900!)
154,700
Fan Belt Shredding
Driving in Mountain Pine Ridge, the fan belt was shredding. It happened earlier on the Hummingbird Highway. A new fan belt was attached that then snapped. 2 fan blades had snapped off, so the fan wasn't spinning in a true circle.

A Viscous Unit from another vehicle was fitted until the part arrives.

LHS Gearbox mount The new Viscous Unit to be installed when it arrives Fuel gauge stuck on full
156,000
Rear Shocks not working
With a full load of people and bags, felt the rear suspension was different. On inspection, the rear shock bushes were loose and no pressure was being put at all on the rear shocks.
156,200

New rear shock lower bushes
Fuel tank level detector replaced

Rear shocks are at the end of their lifetime
158,100
L/H/R Shock Broken
There had been some clanking lately, and on inspection of the undercarriage, the L/H/R shock had completely sheared through at the top neck.

Garage welded the two parts back together. A cheap fix that will probably break again (seeing as the original broke)

Rear shocks end of their lifetime
159,500
Top Link Bracket Broken off Vibrating Steering Power steering leak
The bracket for the top link wishbone that holds the rear diff had sheared off two bolts and lost another. It affected sway on braking. Steering rod was also rubbing on the guard making vibration due to a worn damper bolt. Leak in the power steering system.

Bracket welded back on
Steering damper bolt replaced

Rear shocks end of their lifetime
159,900
Power steering leak
Power steering leak started again after using the sealant. The tube into the pump had lost its 'crimp' and was leaking. No time now; to be fixed after JT
Rear shocks end of their lifetime Power steering leak
Vehicle Inspection
Full inspection done by garage with suggestions to bring the vehicle up to spec:

Rear number plate light
New Snorkel flex tube
All rear window glass channels
New L/H wing mirror
New Windscreen
New Sway bar ball joints
New Sway bar bushings
New rear axle flexible joints
New front prop rear UJ
Tighten headlights to improve focus
Repair broken brake lights

Also noted:

Bad connection on dashboard fuel gauge light
Needs new tires all round
Broken bonnet hinge
Interior light
Full Service needed
Rear shocks at end of their lifetime
Snorkel cover trashed

To be done during/after 07B2
160,000
Power steering leak fixed

New power steering pump lower hose
Brake light switch is broken, need a full day to repair.

Snorkel has been bashed around so much lately that the flexible bit has sheared, and the cover is rusting away.
See list 10th July
160,150
Rear Shock snapped Snorkel cover snapped
R/H/R Shock absorber sheared off at the neck (like the left one did a few months ago). The cover for the snorkel snapped off by being bashed by trees. It's lost.
See 10th July
160,200
6 Monthly Service and Tune-up
A chance to get things back up to spec after years of battering.

New rear number plate light
L/H Headlight tightened
New Snorkel flex tube
New Sway bar ball joints
New Sway bar bushings
New rear axle flexible joints
New front prop rear UJ
Tighten headlights to improve focus
Repair broken brake lights
Dashboard secured
New Snorkel cover
New interior light bulb
New oil, air and fuel filters
Fluids changed, diff oil checked
Bearings checked and greased
Brake pads checked
New L/H wing mirror

New Windscreen All rear window glass channels (to fix the rattle) New brake light switch New rear shocks? Bonnet hinge New tires all round
160,950
Rear Shock destroyed
The R/H/R shock split apart just from highway driving, and is irreparable. The damage last week must have been greater than expected.

Replaced with a usable shock from garage's Camel trophy disco!!!
L/H/R shock is not really worth replacing atm

See above.
161,750
Further Tune-up Works

Rear window channelling fixed. Rear-side window of each pair is now glued shut. Bit of a bodge.
Rear seats re-upholstered
Rear seats strengthened around base
New front windscreen
New brake light switch

New tires all round
-
New Tires

New tires fitted. Hankook MTs replaced with Pirelli Scorpion Mud tires. Very good spec.

165,000
Broken Injector
After lots of black smoke, misfiring and bad noises (thinking it was another broken rocker arm), it turned out to be a broken injector. The others are okay.

New injector in the engine

165,500
Steering Rod Snapped

Tried to remove steering rod to take back to be repaired, but didn't have the right tools
Escorted BATSUB Royal Engineers to help us out remove the rod

165,500
Steering Rod replaced
Bought a new steering rod from garage, drove out to truck and fitted it. Taken back to garage for intricate alignment.
165,700
Broken Rocker Arm
Same old story. Cloud of black smoke, no power and clanking in the engine. Splatter of oil on underside of bonnet. Limped back from Cristo Rey in low ratio as there was no power. The towed to garage.

Rocker arm replaced
Injector had exploded, replaced

165,900
Scraping noise
The constant scraping noise, and more so when turning right was a completely worn R/H/R brake pad, which scratched up the hub. Front pads changed as well for continuity. The rotor is now grooved and needs machining to prevent premature wear of the pads on that wheel
R/H/R Rotor needs machining
166,300
UJ, steering shudder and Viscous unit replacement
The clunk from gear changes is just a worn out rear UJ. The slight steering shudder was a worn bushing. A new whirring noise had started and garage inspected and found the entire viscous unit was bust, meaning the fan didn't spin to cool the engine. Luckily caught early….!

New rear prop rear UJ
New steering damper bushing
New Viscous Unit

R/H/R Rotor needs machining Front prop front UJ starting to wear R/H/R hub oil leak
167,150
6 month service

R/H/R brake disc machined smooth Cannot be further machined. Further damage will require new rotor
New engine oil
New oil filter
Air & fuel filters serviceable
New R/H/R hub seal, oil seal and drive shaft gasket
Propshafts/UJs greased

Front prop front UJ starting to wear Both flexible joints wearing Drop arm ball joint
167,200
Injector lubrication + Motor vehicle inspection
Reverse light not working at Motor vehicle inspection for tax. Poured 2 pints of ATF fluid into the fuel tank to help lubricate the injectors.
Front prop front UJ starting to wear Both flexible joints wearing Drop arm ball joint
167,650
Scraping noise from rear
Turning left there was a big scraping noise, which progressed to driving straight as well. The R/H/R wheel was wobbling. Dropped into garage and they had mistakenly missed out a piece when repairing the seal last week. They took it all out and re-machined the threads on the stub axle screws. No charge.

New R/H/R hub seals and gaskets

Front prop front UJ starting to wear Both flexible joints wearing Drop arm ball joint Driver's door locking mechanism dodgy Reverse light pins rusted Brakes are a bit soft Smashed R/H side light
-
Hissing noise from bonnet
The noise was a burst intercooler pipe spraying out oil.

New intercooler rubber pipe bend.

Front prop front UJ starting to wear Both flexible joints wearing Drop arm ball joint Driver's door locking mechanism dodgy Smashed R/H side light
-
Clonking sound when changing gear

New RHR drive member
New RHR stub axle
New steering damper bush

Needs new drive shaft and drive member on rear drivers side
-
Broke at Burrell Boom

Replaced rear flexible mounts
New LHR drive shaft & drive member
Replaced universal joint
Replaced drop arm kit (wobbly steering wheel)
New snorkel hose
New RHR brake pipe to fix soft brakes

-
Vehicle rolled
Vehicle stranded upside down on Mountain Pine Ridge.
-
Vehicle received from garage + 5,000km service

Mechanically sound. Fluids serviced.
Roof rack bent out of shape and ditched.
Damage to both front wings,
RHR wing,
Smashed windscreen,
Smashed RHR window
Mud jammed in RHF Tire; needs reseating
Bonnet won't open properly
Bonnet tire mounting warped so can't be removed
Radiator loose
Passenger door doesn't shut properly
Smashed L/H sidelight lens

New windscreen
173,600
Replaced windscreen
173,650
Wheel scraping noise and Works

RHR inner brake pad replaced (was worn completely in 4 months and scraping)
Removed sway bar (bushes worn, do we need it anyway?!?)
Rear shocks tightened
1 pint of ATF fluid in fuel tank
Bent back bonnet tire mount

174,400
6 Month Tire Rotation

Rotated all tires
New bumper from BATSUB

175,600
Broken UJ
175,900
Works
176,400
Shock bushes

New rear shock bushes, except LH top bush