How to Sell a Land Rover on eBay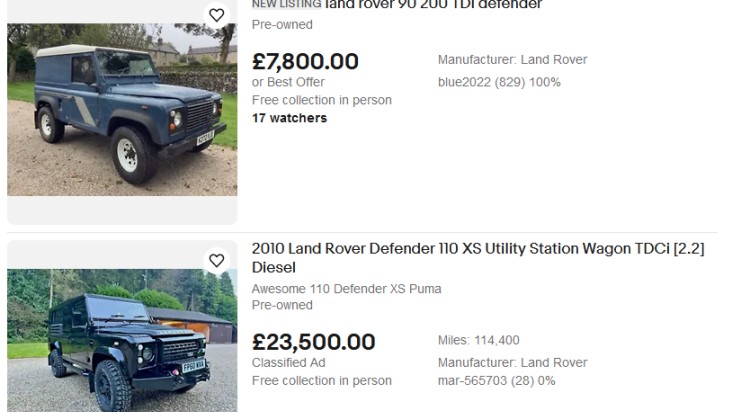 Maximising your profit when selling a Land Rover on eBay comes down to a number of factors - some you can control and some you can't. An eBay Land Rover search yields literally thousands of vehicles, so how do you stand out as the best buy?
Like selling anything, it's a combination of the product and the way you market it. Not all of us are able to sell sand to the Arabs, so I will try to go through a few helpful tips that I have gleaned from trawling the auction pages when looking for a good buy.
The product
Land Rovers hold their value well compared to other cars, but there are some things in particular that give a Land Rover extra value. The typical Land Rover image is a battered old farm hack that's had a life doing what it was made for. But the way it looks comes down in large part to the way its been treated by its owner.
Land Rovers are like women; treat 'em gently and give 'em a good service once in a while - An Army mechanic
Aspects which attract higher paying bidders include:
Good chassis, bulkhead and rear crossmember- The dreaded rot of a Land Rover. These three major components can instigate a multitude of welding and if they're starting to get a bit rusty, it can be a sign of something that could be a big problem. Replacing the major structural components down the line is a lengthy and expensive job, so knowledge that the bare bones aren't going to collapse before getting it home gives a buyer peace of mind.
Straight bodywork - Most Land Rovers have dents, so naturally the ones without are in the minority, and demand a higher price.
Modifications - Winches, snorkels, springs, shocks and guards fitted to Land Rovers fetch a higher price, simply because of the added value. However, you would get more money by removing the modifications and selling them separately. A roof rack is very much a personal preference as it affects fuel economy, so it may be better selling it separately or offering to remove it.
Regular servicing history -There are higher consequences for not regularly servicing a Land Rover, because the servicing intervals are more frequent, but also because the vehicle is more technically complex than the average car. A consistent history of servicing guarantees that all has been done in the power of the owner to keep the vehicle mechanically sound.
200/300Tdi Engine - There is still a large market for Land Rovers with these engines, even though some are pushing hundreds of thousands of miles and are decades old. They are diesels - more useful for off roading and expeditions - and aren't computer controlled like the Td5Tdci engine, so are more easily repairable. Whether it's a genuine engine or a conversion, having either of these engines will likely raise the bids.
Not off-roaded - This can't be guaranteed and seems a little odd seeing as a Land Rover is an off-road vehicle, but having only ever really driven the vehicle on road is a sure sign of better reliability.
It's a Station Wagon - They're more versatile than say, a pickup. 11 seats vs 2....
Expedition related - Similar to modifications, but specifcally for going on expeditions. Roof tents, extra storage, long range fuel tanks, water tanks and roll cages take the hassle out of those wanting to go on expedition and who are prepared to pay for it.
Low Mileage - I've added this at the end as having low mileage is good, but doesn't affect the price that much. Land Rover engines are capable of hundreds of thousands of miles, so buying one with a lot on the clock isn't such a big deal as long as it's been looked after.
The easy fixes
Relatively cheap and simple fixes to noticeable problems can make the difference, but these depend on how effective you are with working on your vehicle and how much time you want to spend. On eBay appearance is everything as they only have photos to go off.
Ripped seats - Don't Gaffer tape it - get some new ones. Drivers seat bottoms cost around £40.
Non-working lights - It could be bulbs or fuses - pence.
Rusty bumper - You can get a new one for £35 or paint it. Bumpers make a big difference to a Land Rover's appearance.
Door handles - They're only a few quid
Single set of keys - Get another set cut
The marketing
So the Land Rover you're trying to sell doesn't really have many of the positives listed above? Might you be condemned to paying someone to get the wretched thing out of your sight? No fear. A few simple considerations for how you advertise and list your Land Rover on eBay can change the way potential buyers perceive the vehicle.... and you as a seller.
Beware talking about things like "It starts first time bump starting down a hill, like a typical Landy" or any other excuses for not looking after it because a Land Rover "can put up with it". The biggest first mistake of a Land Rover owner is thinking that their vehicle is indestructible. The second is thinking that people will excuse them for it "because it's a Land Rover'!
Varied photos - Take a good selection of the important parts. All exterior sides, chassis, engine, interior, speedometer and seats. This is so that you don't appear to be hiding anything.
Good Photos - Don't take them miles away, too close, from obscure angles or on a poor quality phone. Understanding the macro setting on your camera properly can give drastic improvements. And for god's sake make sure it's daylight and in focus (i've seen it happen).
Photo location - driving somewhere nice helps people visualise what they could do with the vehicle. Get it off the drive and go the nearest national park/countryside/grass/etc. to take your photos. Sell the idea of adventure rather than the everyday commute.
Give it a wash and hoover- Land Rover's are meant to be dirty, but people don't want to know you've thrashed it through the mud!
Be honest - No-one likes surprises when they're spending lots of money, and eBay is a rascal for these kind of purchase revelations. People will more happily bid if they think they know all the faults, rather than bidding for something that appears to have nothing wrong with it..... until they get it home. Bidders are wary.
MOT & Tax - An MOT certainly isn't always possible if you're after a quick sale and not having that generally follows with no Tax either. Having Tax is less important now as the tax is refunded when sold and it's the new buyers responsibility. Having at least an MOT means a) The vehicle is roadworthy and b) Won't require work once its been bought. It's worth getting things fixed up as there are more people looking for vehicles they can drive away than ones they have to trailer and become 'projects'. Getting it roadworthy will increase the audience of potential bidders, and with it, the more chance of a bidding war.
V5C document - Some older vehicles might only have the V5 document, having never been sold since 2005, but having it creates a more straightforward transferrence of ownership for both parties. It doesn't cost much. Read the official info on V5 documents.
Auction ends on Sunday evening - This is the time when most people are on eBay. A bigger audience for when the auction ends.
Contact number - This is peace of mind for potential buyers, and a chance to clarify things further
The expectations
These are 110 Hardtops and Station wagons. Pickups and 90's are generally less.
Defender 1980's: £1000 - £3500
Defender 1990's: £2000 - £8000
Defender 2000's: £4000+
NB: These prices are from 2009.
The statistics
Over the course of a month I have kept a keen eye on the market to try to find what I can expect from parting with a budgeted lump of hard earned cash. I was looking for Defender 110's that aren't too new, which could be potential expedition vehicles.
These criteria are by no means exhaustative, but shows a trend. Bodyword is subjective, but 5 is immaculate and 1 is a complete rustbucket with flaking bulkhead and chassis. You can work out the engine from the year - see my Land Rover guide. And even despite being a bit worse for wear, the highest price in the table was the Camel Trophy vehicle.
| Mileage | Body | MOT/Tax | Year | Cost £ |
| --- | --- | --- | --- | --- |
| n/a | 3 | no | 1990 | 395 |
| 96k | 3 | no | 1986 | 516 |
| 137k | 2 | no | 1988 | 570 |
| 189k | 4 | yes | 1986 | 790 |
| n/a | 2 | no | 1989 | 890 |
| 128k | 4 | no | 1994 | 976 |
| 170k | 2 | yes | 1990 | 1000 |
| 176k | 4 | yes | 1985 | 1000 |
| 126k | 4 | yes | 1989 | 1170 |
| 150k | 3 | yes | 1991 | 1170 |
| n/a | 3 | no | 1991 | 1200 |
| n/a | 3 | yes | 1990 | 1220 |
| 259k | 4 | yes | 1991 | 1260 |
| 132k | 4 | no | 1990 | 1420 |
| 156k | 3 | yes | 1998 | 1500 |
| 85k | 4 | yes | 1984 | 1550 |
| 175k | 4 | no | 1989 | 1550 |
| 131k | 3 | yes | 1989 | 1600 |
| n/a | 5 | no | 1988 | 1850 |
| 175k | 4 | no | 1990 | 2000 |
| n/a | 5 | yes | 1996 | 2500 |
| 90k | 4 | no | 1986 | 2600 |
| 129k | 5 | yes | 1989 | 2670 |
| 120k | 3 | yes | 1997 | 2995 |
| 102k | 5 | yes | 1994 | 3000 |
| 42k | 4 | yes | 1989 | 3100 |
| 188k | 5 | yes | 1988 | 3450 |
| 118k | 5 | no | 1989 | 4000 |
| 10k (Camel) | 3 | no | 1989 | 8000 |