The 200Tdi Engine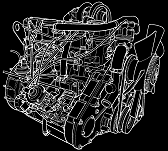 Years produced: 1990 - 1994
Power: 107�hp (80�kW)
Torque: 188�lb/ft (255�N/m)
Fuel: Diesel
Capacity: 2495cc (2.5 litres)
Cylinders: 4
The Land Rover 200Tdi engine replaced the 2.5TD and 2.5NA engines of the 90/110, with a new strengthed engine block to rectify the 2.5TD's problems. There was also a new cylinder head, turbocharger, intercooler and direct injection system. The 200Tdi is very similar in power to the 300Tdi, however the 300Tdi is a evolution of the 200Tdi so is considered more 'refined'. The 200Tdi is also reputed to have better engine durability and has a lower fuel consumption than the 300Tdi. Considering that the 200Tdi was only built for 4 years and the 300Tdi for 12 years, spares are harder to find on this older engine.
The Defender and Discovery versions are different - they have different front covers, manifolds and the turbo is located differently (Defender: above inlet manifold, Discovery: below inlet manifold). The Discovery version also produces a bit more horsepower (111hp).
Since the 200Tdi engine can be placed in a variety of Land Rovers through the years, and fact that they were only produced for 4 years means that they are sought after engines and demand a higher price accordingly. People have been known to downgrade from a 300Tdi to get the benefit of better fuel consumption. In real terms, there is not much to separate the engines in terms of performance, whilst the parts and systems they use can vary widely.
200Tdi service kit
Check out this list of items that are required as a "service kit" for the 200Tdi.
Convert from the 200Tdi Engine
Converting to 300Tdi or Td5 is possible without upgrading the LT77 gearbox, although doing so and replacing it with the R380 will make an easier fit.
Convert to the 200Tdi Engine
Can be a good option for a Series Land Rover, which gives an impressive performance boost and has the same gearbox. The Defender version fits easier than the Discovery's.
Compatible Gearboxes
Fits the LT77 as standard, but can fit the R380 with a shorter R380 Bell housing.
comments powered by

Disqus