The Td5 Engine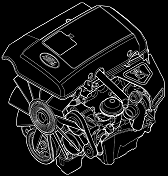 Years produced: 1999 - 2006
Power:  122 bhp (91 kW)
Torque: 232 lb/ft  (300 Nm)
Fuel: Diesel
Capacity: 2.5 Litre
Cylinders: 5
Serial code prefix: 10P (99-02), 15P or 16P (02 onwards)
The Land Rover Td5 engine was already in development for the Discovery when Land Rover was purchased by BMW also became part of the Defender line. They replaced the 300Tdi due to tigher European emission controls, which was accomplished by controling the engine via an Electronic Control Unit (ECU), essentially making it harder for owners to maintain their own vehicles. Everything relating to the Td5  engine such as temperatures, fuel cut off, fuel injection and the accelerator pedal are controlled electronically, and various additional systems were included such as an extra rear mounted fuel filter and fuel cut off crash detection.
Aside from a few teething problems, the Td5 is a quieter Land Rover engine, performs better at high crusing speeds, and has very similar overall performance. However, Land Rover still retained the 300Tdi for export.
Converting to the Td5 Engine
The Td5 engine has very different mounts than previous engines, although it fits in the bay no problem and is as applicable with other gearboxes as the other engines are. The main difference being that the engine is electronic, so requires a wealth of wiring knowledge to complete.
There is a good article about converting to a Td5 engine at WebRover from a 2.5 TD, but will also be applicable to converting from the 200Tdi and 300Tdi.
Converting from the Td5 Engine
This is a less common conversion, which is ultimately a downgrade, but considered feasible if you will be expeditioning overseas and want the non-electronic reliability/repair factor.
Compatible Gearboxes
The TD5 is fitted with the R380 Gearbox as standard.
comments powered by

Disqus