3 historic, inspirational Land Rover expeditions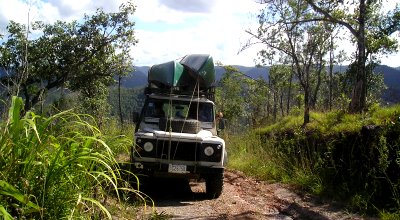 So it seems that these days, to go round the world in a Land Rover means that you need an accompanying website. It's a great way to keep a journal about what you get up to, to inform your friends and family at home and to inspire others. Over the years I have found many such websites, but the ones below have personally been the most inspirational to me because of a blend of adventure, hard core off roading, reliance on the expedition vehicle and unexpected occurences. To me they sum up everything great about using a Land Rover for an expedition.
Ihana
Way back in 2003 these two guys took a mammoth trip around the Americas, claiming to be the first overland website of its kind. Buying a fairly modest and aged ex-MOD 2.5N/A diesel 110, they went through the usual vehicle preparations over a two year period, and have a great run down on what worked and what didn't, what broke and what didn't. Keeping with the expedition spirit, they also have a list of times they got stuck and times they crashed! This website is the expedition paradigm, concerned less with the glamour and starry eyed nature of overland travel, but relishing the hardships and tough times that true expeditions are all about.
Big Sky Adventures
http://www.bigsky-adventures.com
In 2005, this couple drove from London to Cape Town on a route down the Western coast of Africa over almost a year. What I admire about this trip is that they took a fairly modest goal (in the sense of start driving and then ship it back) and spread it out to make the most of it. Some trips try to cram in countless countries into little over a year or more. Big Sky Adventures took more time to do a shorter distance.
It's still thousands of miles, granted, but a slower pace of expedition helps to soak up the atmosphere and come to know a place and its nuances. My personal preference is that i'd rather drive 1000 miles over slow demanding terrain on expedition than 5000 miles zipping along highways.
The vehicle on this expedition, a 1991 200Tdi hardtop 110, was built from a 90 and is more fascinating because it had been passed between several different owners, each doing their own massive expedition! A stalwart of expeditions.
There is a great resource of GPS points on the journey, along with some great videos, photos and breakdowns whilst expeditioning in Africa.
Lone Wolf TransGlobal
http://www.lonewolftransglobal.co.uk
This expedition was truely epic, taking in a large part of the globe in 2007; but what's more astounding is the vehicle it was done in. For an expedition vehicle (speaking as a Land Rover lover) you could not get any better than their 300Tdi 110 Hardtop Wolf. One of only 7 Gold Wolves in existence, they were made specially for Ranulph Fiennes' Trans Global expedition in 1998, but was cancelled at the last minute. The vehicles sat useless. Until this expedition.
'Wolf' military Land Rovers have strengthened components such as chassis and axles, but these Wolves were strengthened even more so. Even so, some preparations were done to the vehicle before they left and there is good documentation of the expedition via photos and some great videos.
I actually missed seeing this expedition in Belize by a few weeks as they drove through during a period I was back in the UK, but I heard all the stories about it when I returned!