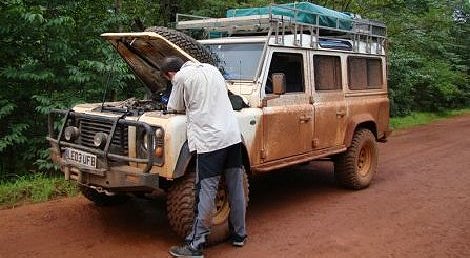 This is a guest post by Dominic O'Neill. He currently works for DFID in Sierra Leone and for 4 years worked for Raleigh International on 10 expeditions in Namibia, Mongolia and Patagonia. He will soon be moving to Nepal and has sold his 300Tdi to buy a Puma Defender. He has over 15 years experience working with Land Rovers. Personally, I've been on two expeditions with Raleigh and can vouch that they love their Land Rovers!
Walking through the London carrying three diesel jerry cans I was a little surprised that no-one even raised an eyebrow. Had I been asked what I was doing, my answer would have been "I need them to ensure my fiancé and I can drive through Mauritania without stopping for fuel because things are a little tense there just now after the coup". I'm sure the Met police would have been very understanding at this explanation.
So it was that at midday on Friday 8th August, Ewa and I set off to drive from London to Freetown, first stop was the Eurotunnel where we marvel at the ease by which you can travel freely from country to country, even under the water, smoothly and efficiently. How wrong we were, but more on that later. Our first destination was Paris where wanted to start off in a little bit of luxury and in the style of the Paris-Dakar rally, under the Arc d' Triomphe.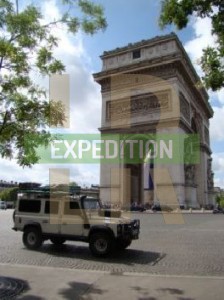 Our drive south then took us through Provence where we learnt that the narrow streets of those quaint villages weren't designed to fit Land Rovers with extra wide wheels. We apologised profusely as we reversed the wrong way down one way streets and caused general chaos. Then we had a brief overnight stop on the Costa Blanca, we considered going to Benidorm but were keen to avoid places where we would experience sporadic violence and street riots, in this case by the Brits-on-tour. We then made it to Andalucia, southern Spain, and the gateway to Africa. After a pleasant night with friends in Marbella we head for the 5am ferry to Morrocco, not sure if we would be coming back this way in two weeks time should Mauritania prove to be a fragile state too far.
Once in Morocco we head straight for Marrakech and the Atlas mountains where we stayed with my friend, Abdou and his wife Fatima. He's a Berber mountain guide that I have trekked with previously and we are given a warm welcome followed by vegetable tagine and copious amounts of mint tea. We were able to leave the car for the next few days and enjoy exploring the Atlas mountains on foot but it wasn't long before we started thinking about driving again, knowing that we had the most uncertain part of our trip to come – 1200km through remote Western Sahara, a country occupied by Morocco, followed by a lonely 800km through the Mauritanian desert, a country which has just had a coup.
Mauritania is challenging enough under normal circumstances, but the coup had brought a new dimension of uncertainty that we would have to deal with. My concern was less the risk of kidnap, or getting caught up in demonstrations, more the risk of breaking down in a remote part of either country and the logistics of getting help. .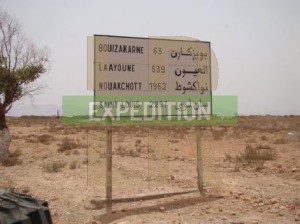 So followed three hard days of driving and two even harder days of getting through border posts, police checkpoints and customs (douane) controls. I got caught "speeding" twice in Western Sahara. Someone had obviously given the local gendarmie some speed cameras to keep them busy and I was a likely suspect – the first time I got away without a fine by speaking my most polite Arabic, the next time we both feigned ignorance to either Arabic or French and the officer just gave up and went to sit under his acacia tree to contemplate just what he must have done to deserve being sent to the Western Sahara to deal with the likes of us.
Driving through Western Sahara you are constantly accompanied by the Atlantic Ocean on your right and the Sahara on your left. Neither really offers much comfort so you just keep on driving hoping to come across some civilisation, and you never leave the tar road as there are minefields on both sides. At the end of all this is the Mauritanian border and uncertainty for us. It takes us an excruciating eight hours to get out of Western Sahara and enter Mauritania, officials dragging the process on as long as possible in the hope you will accelerate things with some baksheesh. We refrained apart from the final hurdle in Mauritania, the customs police had worn me down so much that I gave in, a twenty euro note saved a further hour of delay which would have meant driving in the dark, the last thing we wanted to do in Mauritania.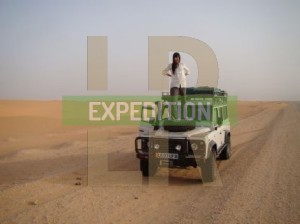 So we made it to Nouadhibou, just across the border and found a compound where we could camp safely and prepare for the dash through Mauritania to Senegal the next day. Things had been calm and we were optimistic about getting through, although that night we heard a lot of demonstrations in town both for and against the coup. We decided to leave before sunrise and drive the most isolated part of the whole journey; 600km through the desert to the capital, Noukachott with nothing in between.
We put all of our confidence into the Land Rover to carry us safely through the searing heat. With mixed relief we arrive at Noukachott, mixed because although we were nearer civilisation it was Friday midday and the mosques were just coming out, usually a flash point if there is political or civil unrest. We later found out that the ousted President had been rearrested only a few hours before on the road we had come in on, he was trying to attend the political rally we had heard starting up the previous night and then possibly escape to Western Sahara. After a tense hour of driving through the back streets of Noukachott we found the road south and made our final dash for the border. We stopped only once to add the diesel from the jerry cans that I had carried so carefully through the DFID offices ten days before.
The final obstacle on this leg of the journey was the infamous Rosso ferry border between Mauritania and Senegal. It's the end of the Sahara and the start of the tropics as you cross the Senegal River. The guidebooks warn against this border post as you get so hassled but we had no choice as the road to the other border post was washed out. So we took on Rosso and four hours later emerged in Senegal, three hundred and fifty euros poorer and very stressed but we were in Senegal which was a huge relief, we had reached the point of no return – whatever happened it would now be easier to get to Sierra Leone then back to the UK.
A couple of nights in the delightfully rundown French colonial town of St Louis restored our resilience and got us ready for the final part of the trip. We completed the Paris Dakar rally but didn't overnight in Dakar as it was manic but instead pushed on towards Guinea. The next day we turned off the tar road which goes east to Mali and headed south, driving along the narrow eastern edge of Gambia. Not only were we saying goodbye to tar roads but also to toilets and showers for the next four days, but we were well equipped for camping. As we approached the border post into Guinea the "road" conditions deteriorated significantly and the rain started, this was a mere taster of what was to come.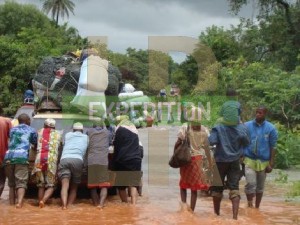 As hoped, these border posts were slight easier, we took them quickly and by surprise, by the time they had realised what rich pickings we were, we were long gone. However, at this point we were not alone. A young Sierra Leonean, David, asked us for help at the border, explaining that his car carrying his wife and baby was stuck and would be pull him out. Happy to demonstrate the pulling power of a Land Rover Defender I obliged and twenty minutes later we found his rather nice Mercedes 190 saloon car by the side of a very muddy and very wet track. Actually, when he said "pull out" he meant "pull us along for the next 50km until the next town". At this stage the road conditions were appalling and getting worse with the rain. I was not expecting there to be much left of his car when we arrived but I obliged nonetheless as he would have been totally stuck otherwise.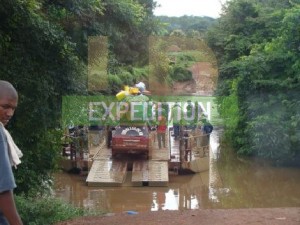 Things were going reasonably well, for us anyway, the Mercedes was being totally ripped apart as I dragged it through mud filled ditches – then we came to the river crossing. Because of the heavy rains the usually shallow crossing was now a three foot deep river crossing with a strong cross-current. I knew the Defender would get through on it's own but pulling a Mercedes I wasn't at all confident. There was no hanging around, with the heavy rains the river could get deeper and faster so we went for it.
I was gleaming with pride as the locals stood in awe as the Landy powered through, I then looked in my mirror and realised they were looking in awe at the Mercedes which had by now disappeared under its own mini tidal wave as I dragged it through the river. The poor driver was panicking at this stage as his beloved car was rapidly filling up with dirty river water. Luckily we got to the other side just in time as his car emptied itself cartoon style with water coming out of the doors and windows. After five hours of hard driving we managed to cut our new friends loose in Koundara and continued south to Labé and the now mythical tar road to Conakry. The tough road conditions continued as we wound our way up into the mountains. At least the next river crossing had a small, hand powered ferry which was a lot more sedate and gave us a chance to chat to the locals.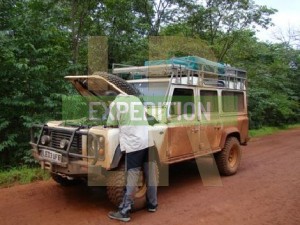 We were in great spirits at this stage with only two hours to go to Labé then…disaster struck. I looked down and saw the temperature gauge was in the red, I stopped immediately and there was water pouring out of the engine bay. This was my worst nightmare, a breakdown in a remote location, we couldn't leave the car as it would be stripped within hours, we couldn't separate as it wouldn't be safe, nor could we hope to be towed by a passing bush taxi. My heart sank, Ewa could see that I was worried but stayed calm. After a few minutes I worked out that we had blown a radiator hose, as luck (or good planning) would have it, I had a spare in the back and after a couple of hours we were back on the road. A large part of me was self-satisfied that we had been able to get ourselves back on the road, although I was now more nervous and eager to get onto the tar road and nearer to civilisation. After Labé we had a further day and a half to the border with Sierra Leone, the drive through Guinea was the most scenic yet with beautiful mountains shrouded in clouds giving way to multiple waterfalls and forests. By now we were tired and needed a rest as did the Landy, so we pushed on into Freetown and arrived there exactly twenty-two days and 8,075km after leaving London.