LT77 gearbox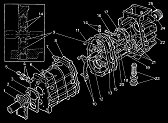 The LT77 was fitted to 90 and 110's from 1984 and carried on into the Defenders until 1994. It has a synchromesh on all forward gears but not reverse. The gearbox is identified on the gear lever by reverse gear being left and forward on the gear stick. The LT77 was attached to the LT230 transfer box.
Standard LT77 engines
2.5 N/A
2.5 petrol
2.5 TD
These engines can take the later R380 gearbox, but with a shorter bell housing.
LT77 Gearbox oil
The recommended specification is ATF Dextron 2 or 3
comments powered by

Disqus